---

Stephen takes you through the Barker highlights from this season's collection.
There are few things that we can take for granted in this world but what we can take is that the sun will always rise in the East, the X factor will always be rubbish and Barker will always continue to innovate and create quality footwear at an excellent price point, queue history lesson.
In 1880 an enterprising gent from Northamptonshire going by the name of Arthur Barker wowed the nation with his waterproof, peg constructed boots, crafted by hand in his humble cottage. So popular did his footwear become that being unable to satisfy the ever increasing demand he had to hire a workforce and so the Barker brand was born. Erupting onto the scene their popularity grew so much so that they even supplied the British Military during the First World War!
Over the years Barker have moved and grown but always stayed true to their roots in their hometown of Northampton, their new factory built in 1986 is a few hundred yards from the original site of 1880, built with materials from the surrounding area and customised for the sole purpose of shoe making. Each section's environment is perfectly attuned to the work that needs to be carried out in that area, one of the reasons why you can count on the quality of the brand being in a league of it's own.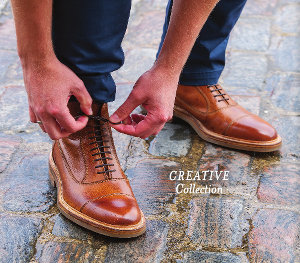 Since the birth of Barker the brand has stormed ahead and gone from strength to strength, tearing down walls, innovating and modernising they prove every season that a traditional standard need not be "old fashioned". Their creative team continue to astound us with modern twists and new materials, a plethora of new ideas to excite and titillate both the traditionalist and the modern man alike yet always their policies of top quality materials, craftsmanship and distinctive classic design are still carefully maintained.
To own a pair of Barkers is in itself an experience worthy of note and you will never forget your first pair. From the moment you open the box with the smell of fresh leather to the point of slipping them on to your feet safe in the knowledge that they have been lovingly crafted and in their truest essence are quintessentially English.
Below I have chosen three of my favourite new styles from the Barker Creative range for the 2013 Autumn/Winter season to demonstrate just how wonderful their footwear is.
The Dixon: This boot is superb, in three colours to suit varying tastes; Cedar Grain, Navy Calf and Bitter Choc Waxed Suede; it shows Barkers willingness to mix old with new. It has a lovely oxford style panelled effect with a plain toe cap, a beautiful natural welt and a Honey coloured Rubber Golfer Sole unit, this still gives it the natural leather soled look but is fantastic for the wetter seasons being waterproof. I already have my eyes on a blue pair this winter!
The Fenwick: Harking back to the olden days, Barker have brought back their peg constructed sole and what a sole it is. Goodyear Stormwelted and measuring an impressive 20mm it really does make an impact. The simplicity of the uppers does not overcomplicate the shoe or detract from the statement the sole makes with the derby styling coming in either black calf with a modern cedar binding or a deep polished Brandy.
The Rebus: For the fashion conscious amongst us you cannot go far wrong with this stylish suede shoe. This simple 3 eyelet derby comes in four rich colours and a contrasting binding. Barker have even gone that one step further with amazing attention to detail and have picked up the binding colour in both the sole and the laces giving the shoes real wow factor. Be prepared for stares of admiration if you decide the Rebus are for you.
More on this item
---
If you enjoyed this article - please share with your friends...