---
New Saphir Products
18th November 2020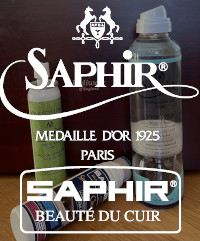 Saphir have recently released several new products including some exciting and useful Medaille d'Or cleaners and protectors. Nathan and Mike test them out...
Saphir has long been known as one of the key producers of fine leather care products with it's history spanning way back to 1920. So it's fair to say, we always get a little excited here at Pediwear when we get our hands on some of their new products.
Below is a summary including an insight into some of the 'in house' testing we carried out on certain products ....we hope you find it useful.
Wax Softener
An innovative product recently added to the Medaille d'Or range which can be used to:
Replenish and soften dried and cracked polish
Clean your brushes - remove waxes and creams from your brushes improving their performance
Wax polish will tend to dry out over time - and whilst some see this as an advantage as it concentrates the wax, it can make it more difficult to apply. This environmentally friendly plant-based product can be used to help soften the wax making application easier.
However, at Pediwear, we are more excited by the prospect of an environmentally friendly way of cleaning our brushes! Check out the results below!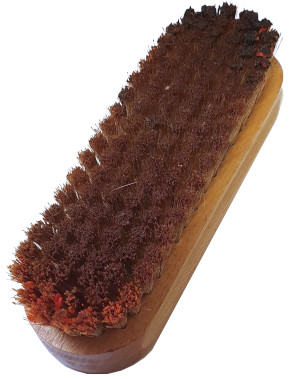 This rather sorry looking brush belonged to somebody in our office. They shall remain nameless.
A quick spray of the wax softener followed by gentle rubbing with a clean cloth produced the results shown below: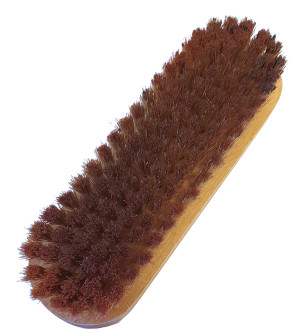 We think you will agree the result are impressive - this was obtained with minimal effort and only a couple of gentle sprays of the wax softener.
Sneaker Cleaner
Looking for a product for all your all sneaker cleaning needs?..well look no further. Saphirs new sneaker cleaner is suitable for use on both the sneaker upper material and the soles / white sole edges:
smooth leather
nubuck
fabric
and synthetics including sole edges/sides
We have it from good authority that this cleaner works really well. The younger relatives of the Pediwear family have been seen in very clean sneakers with very white cup soles.
Water and Stain Protector
Protection for suede and smooth leather - in a novel environmentally friendly and safe aerosol container which only uses compressed air rather than solvents or propellants.
Protects against rain, snow, mud, grease, drinks and indeed stains of any kind.
Prevents dirt from becoming ingrained.
Easy application with a device which works equally well upside down.
Regular use is recommended for best results.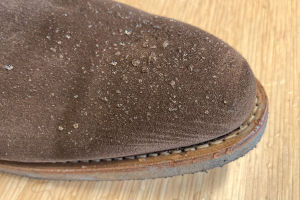 We have been using this product on our suede boots at Pediwear and are impressed with the results. The boot in the image below was sprayed with this product one week ago. We sprinkled some water over it today and took this image - it is clear that the suede is still strongly repelling the water and thereby resisting stains.
Cleanser
Cleans daily dirt and excess wax from footwear and other leather products.
Montan wax encourages the pores of the leather to open - making them more receptive to other leather care products (pastes, creams or lotions).
Can be very useful for cleaning of shoes with a mirror shine - the product preserves the base of the mirror effect, ensuring that the glaze is more easily renewed.
Lotion
Treatment for canvas and other fabric including waxed cotton.
Crafted with the assistance of fabric experts, the product cleans without removing the protective coating. It will not affect designs and logos on the product.
Suitable for use on Tilley hat waxed cotton and canvas footwear.
Leather Gift Care Box
A mini valet set from Saphir, presented in a matt black box with velour lining. An ideal Christmas gift, the components of which serve as an ideal travel kit. Pommadier cream provides nourishment for your leather in addition to a hard to beat shine.
A mini valet set from Saphir, presented in a matt black box with velour lining great gift the components of which serve as an ideal travel kit. Pommadier cream provides norishment for your leather in addition to a hard to beat shine.
Medaille d'Or Pommadier Cream (colour of your choice) 75ml jar
1 Square Chamois Cotton Cloth (32.5 x 32.5 cm)
1 Brush Pommadier
1 Small Polishing brush
Just let us know which colour Pommadier cream you would like us to include!
---
If you enjoyed this article - please share with your friends...