---
Jack Reacher's Cheaney Tenterden Updated.
17th July 2019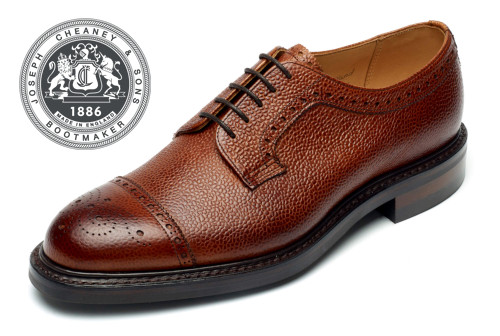 Jack Reacher who is known for his attention to detail, will approve of its characteristics
The style Tenterden which Jack Reacher famously wore in the Lee Child Novel" The Hard Way " has been updated.
In the book, the shoes were described as a Brown semi - brogue made of heavy pebbled leather. The soles were heavy composite items brought in from a Company called Dainite. Reacher hated leather soles. They wore out too fast and stayed wet too long after rain. The Tenterden worn by Jack Reacher was manufactured on the Cheaney 175 Last.
In the year 2016, Cheaney developed a last to celebrate their 130th Anniversary and indeed named it the 130 Last.
The feature of its style is that it fulfils the need for a Classic Last with a Victorian Reference. Jack Reacher who is known for his attention to detail would love its characteristics.
The wonderful shape, curved around the foot with a medium almond, rounded toe. It holds the back of the heel well, with a generous toe depth and foot freedom across the vamp.
Whilst still maintaining the Hand Burnished Mahogany Grain Leather and Welted Dainite Rubber Sole.
Tenterden II has all the ingredients to be another bestseller.
See our full range of Cheaney footwear at : Formal shoes Country footwear
---
If you enjoyed this article - please share with your friends...