---
Loake Lasts
15th July 2013

Stephen describes the lasts Loake shoes are made on and their differences
In a perfect world buying shoes would be a straight forward process, you choose your style, colour, shoe size and the shoes fit perfectly. BRILLIANT!
Alas this is sadly not the case, the reason being is that feet are different and foot shape is unique to the individual, with varying last shapes between styles to complicate the matter you may find yourself in a sticky situation where the shoes you bought are the wrong size.
Here at Pediwear we will always try to help to narrow down your selection as close as can be, but because of the above, knowing EXACTLY what size a particular customer would be is an impossibility unless of course they are wanting a style that is made on the same last as an already owned shoe.
With you the customer in mind we thought that some advice on one of our most popular brands, Loake, wouldn't go amiss, so without further ado here is a run down of Loake's 1880 range last shapes.
(Please be aware that the advice shown is under the assumption of having an average width foot unless otherwise specified)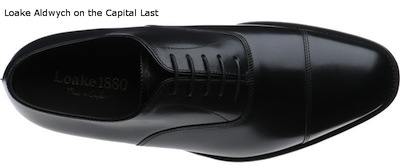 THE CAPITAL LAST – Loake's most straight forward last. We find that the majority of customers find that their regular size is quite adequate in this last shape and is thought of as quite true to size for those with what is considered to be an average width foot. Some may find that there is just a tiny bit of extra width and length but this is minimal and not worthy of adjusting your size for unless you have particularly narrow feet.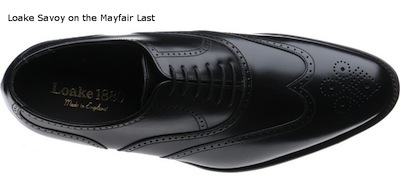 THE MAYFAIR LAST - This last shape can be very tricky to calculate, for with extra width at its widest point and a touch more length in comparison to the Capital last some customers may need to reduce their normal size to compensate. These larger dimensions are to account for the more acute taper from widest point to toe giving it a modern, sleek look. If the Capital fits you well then you should be o.k. with the Mayfair but if you find that it has a tiny bit of room and your feet are on the slender side then a half size reduction would be recommended.

THE SWING LAST – Called the Swing due to the extreme curvature of the last it does seem to have a fair bit of space within the shoe. This generous fit is to cater for the curve of the shoe and keep it in proportion. Average width customers would be advised to take a half size smaller and it may not suit people with an overly narrow foot. On the flip side of this, customers who purchase wide fitting shoes and would normally take a G fit in Loake (or equivalent) your normal size should be suitable.

THE DUKE LAST - Listed as an E fitting you may think that this shoe is very narrow, not so! The shoe is only a touch on the narrow side and unless you have a slightly wider than average foot we feel that continuing with your regular size would be ok. We haven't had any returns from customers with size issues with this last so can see no reason to assume otherwise. In comparison with the Capital last there is minimal difference.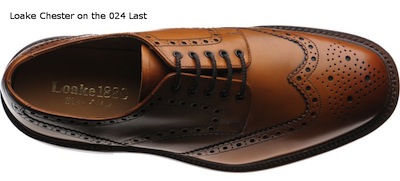 THE 024 LAST – Shoes built on the 024 last are typically country styled wear, this means that the last is built slightly on the generous side. Traditionally this extra space was to allow for the wearing of thicker socks to take up the extra space, as most customers now wear thin to medium socks the excess room should be taken into consideration. A more slender foot will need a reduction in size by a half; we think that this may also be necessary for an average width foot.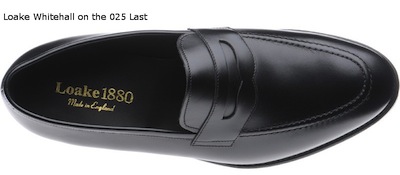 THE 025 LAST – Predominantly used for loafer style footwear this last shape is on the snug side and we firmly believe that a half size increase is needed to achieve a good fit. We would not recommend this particular last for people who have wider than normal feet.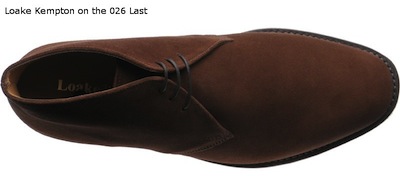 THE 026 LAST – The thing to note about this last is that it is built in two width fittings; as such styles built in the F fit will NOT fit the same as the G fit which is very important to recognise. The 026 in the F fit is quite comparable to the Capital with maybe a fraction more space in the toe due to a more traditional style; however we do not think this will cause a problem to the standard foot and your usual size should suffice. The G fit is built with a few millimetres more width; because of this and the toe room this fitting will feel about half a size bigger than the F.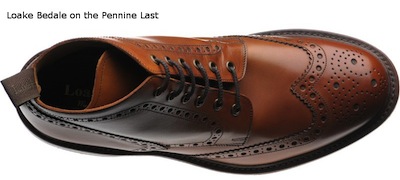 THE PENNINE LAST – This is a G fit last with a large rounded toe so unless you have a wide foot or intend to wear thick hiking socks then a half size reduction is highly recommended. You will find that most country style footwear is stereotypically designed in this way whether an F or G fit width.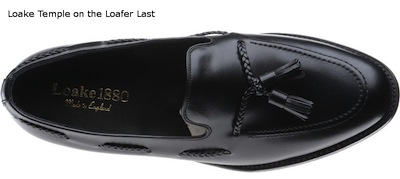 THE LOAFER LAST – Is similar to the 025 in shape but we find there to be a little more space. Long and slightly narrow, you may find the last to be quite snug but bear in mind that loafer style footwear does stretch a little. Like the Mayfair last this one is a little tricky and we feel it is border-line as to whether an increase in size would be needed. Our philosophy though is when in doubt go bigger.
We really hope that the above last list is of help to all shoe seekers out there but remember that this is only a rough guide on how the shoes may feel and is not guaranteed; as previously stated everyone's feet are a different shape and as such shoes can feel one way to one person and another way to somebody else. Should there ever be that shred of apprehensiveness when ordering new unfamiliar footwear then please, please do contact us at sales@pediwear.co.uk where we are only too happy to help and will do our best to get it right first time!!
---
If you enjoyed this article - please share with your friends...