---
Mens Formal Shoe Guide
26th November 2014

Pediwear's formal shoe guide
When choosing a new pair of shoes, it may not seem essential to know the difference between a Derby or an Oxford, or to know if your brogue is a semi brogue or a quarter brogue. However, to the modern man, finding the right shoe to fit the right occasion is important and knowing how to differentiate among the different styles will allow you to dress appropriately for the right event. So if you want to dress up or dress down for an occasion, our guide to mens formal shoes will help you make the right choices and help you to make the right impression wherever you go.
Monk shoes are characterised by their lack of lacing, instead they have a buckle and a strap. Monk shoes are considered more formal than the Derby, but less formal than the Oxford. For this reason they are suitable for a variety of events and can be combined with formal wear and more smart/casual attire.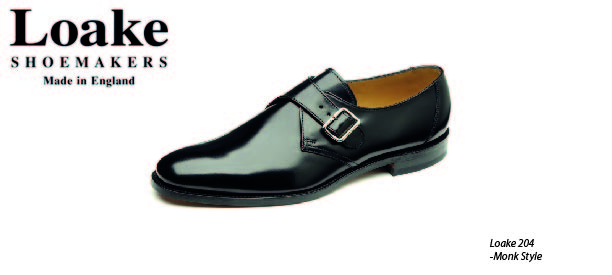 Derby shoes are characterised by their two side panels, referred to as quarters, which are laced over the tongue. As well as this, Derby shoes have what is known as 'open lacing' or 'open throat lacing'. What this means is that the panel to which the laces are threaded through, isn't stitched together at the bottom, so does not form a V shape like an Oxford shoe would. This is beneficial in that it makes the shoe easier to slip on and off as well as allowing for greater adjustability to cater for different foot shapes. Often thought of as being less formal than the Oxford shoe, Derby shoes are a great choice for any smart/casual event and go great with a pair of chino's or smart jeans and a crisp shirt.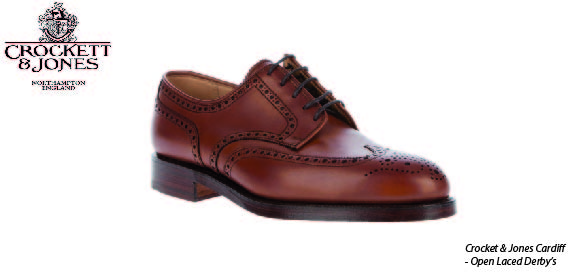 Oxford shoes are regarded as the quintessential formal shoe. They are usually kept simple and understated in their design although broguing, which we will come onto later, and other detailing is also common. Oxford shoes differ from the Derby style in that they have 'closed laces' which means the bottom of the lace panel is stitched together into the shoe, forming a V shape. This gives the shoe a far sleeker look than the Derby, although it can mean it can take more time to get them on and off, and finding a shoe that fits your specific shoe shape is also key. A good pair of Oxford shoes can really complete an outfit and exerts a sense of class and style. They are of course the perfect accompaniment to a sharp tailored suit.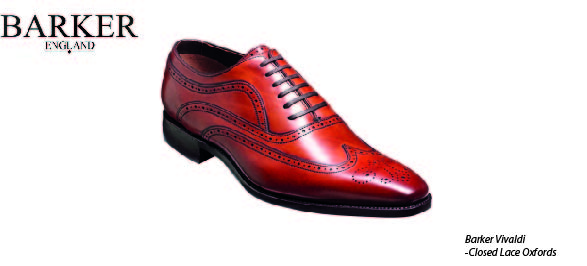 The word brogue is said to derive from the Gaelic word bróg meaning small shoe and have been around for a number of years. Initially seen as a country/ outdoor shoe, the brogue has found its way into the modern gentlemen's shoe collection and can now be worn in almost any situation, from everyday wear to office wear, or even dressed up for a black tie event. Characteristically a brogue is defined by its multiple piece, leather uppers and decorative perforations. Broguing can be found on a number of shoe styles, including Oxford, Derby and Monk, and can be a full brogue, semi brogue and quarter brogue.
Full Brogue – A full brogue is the most elaborately decorative of the brogue collection and is identifiable by their pointed toe cap and wing extensions that run along the side of the shoe (forming a W shape is looked at from above). The shoe is also serrated along the edges and has additional decorative perforations in the centre of the toe cap.
Semi Brogue – The semi brogue is less elaborate than a full brogue, yet still features decorative perforations on the top cap as well as having a serrated edge. The semi (or half) brogue was first first designed in the late 1930's as a way to introduce more elaborate designs into the plain Oxford shoe.
Quarter Brogue – A quarter brogue features the same serrated edge as a semi brogue, however they do not include the perforations on the toe cap.
Finally, we thought an introduction to mens formal shoes wouldn't be complete without a mention of the different sole types available. Traditionally, a formal pair of leather shoes would come with a leather sole. These soles are considered most formal however they can be slippery when wet, so when choosing to wear a pair of shoes with a leather sole, it is advisable to take the event you are attending into consideration and the weather conditions. A rubber Dainite sole is a great alternative to leather. These are still considered formal wear due to the fact they remain thin, yet they offer considerably more grip. If you are attending a formal event, it is advised to steer clear of shoes with a commando sole, although these soles with their excellent grip are great for a more smart/casual event.
We hope our quick guide to mens formal shoes will assist you in choosing the right pair of shoes for the right occasion. Don't forget, at Pediwear we operate a Price Pledge Policy and will guarantee to beat the price of any shoe by at least 5%.
---
If you enjoyed this article - please share with your friends...