---
Trickers Muflone Leather Collection
17th March 2020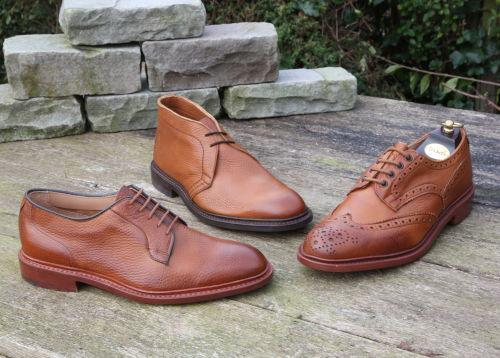 New for Spring/Summer 2020 Trickers Muflone Leather Collection
We are pleased to be able to offer some new styles from Trickers made in Muflone Burnished leather. This is a beautiful soft yearling leather with a natural lightly grained pattern. The skins are first chemically softened in wet drums and then tumbled in dry drums to achieve the required malleability. The burnishing is achieved by a second vegetable tanning process which allows the leather to bruise.
The result is a shoe with the renowned Trickers quality and durability combined with a new level of comfort. Treat the shoes with kindness when polishing, as rubbing too hard or causing too much friction can cause the leather to burnish in areas you do not want them to.
We offer three styles in this attractive new leather; the classic Bourton derby brogue (in two colours), the plain derby Robert, and the Polo chukka boot. The Bourton is of course one of the favourite and most classic styles from Trickers; in this version it has a thinner single leather sole and is consequently significantly lighter. The Robert and the Polo are both styles which we have found popular in other variants in the past, and the Muflone leather gives a very pleasing and attractive result, ideal for smart casual situations.
Also new for this season is the Adam, a classic Penny Loafer style made in brown Castorino suede and ideal for smart casual summer wear.
---
If you enjoyed this article - please share with your friends...