---
Barker Lasts Explained
1st July 2014

Expert fitting advice from Stephen on Barker's most popular last shapes
Shop with confidence, Barker last guide.
After the success of my last blog about Loake lasts in the 1880 range - I have received requests to write a similar article for Barker's most popular last shapes.
(p.s. remember folks we all have a different foot shape so I cannot guarantee that it will work for everyone!)
Update October 2020 - we have now completed a second article reviewing more Barker Lasts - see Barker Lasts Part II
The Barker 443 F last: Although this last is slightly elongated it is probably Barkers truest F fit, the taper of the shoe nicely counters the extra length giving a comfortable fit. As such your normal size would be recommended.

The Barker 446 F last: Very similar to the 443 in both fit and look however this last has a more rounded toe and a fraction more height, unlike the 443 though you may need a half size reduction to compensate the extra dimension. Also be wary of the Thompson, although it is made on the 446 it is made in a G fit, this means unless you have a wide foot a full size reduction may be needed.

The Barker 460 F last: Something of a hybrid, modern meets country, this last has typical country proportions meaning that the shape/width is generous to accommodate thick socks, quite rounded but still with a more tailored style than country shoes from other brands. A half size reduction will be needed unless you are going to wear them as they were intended with extra thick socks!
The Barker 450 FX Last: Although classed as an FX (slightly wide) this last can be quite deceptive, having a lower vamp and a more dramatic taper the angles hold your foot in place even though you have a fraction more width at it's widest point. I would be inclined to suggest your regular size for this last.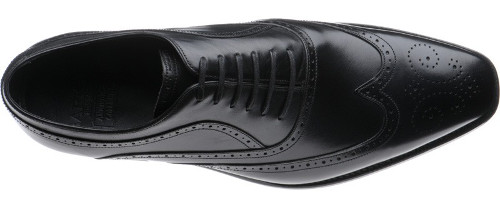 The 396 FX Last: is quite true to size so if you have a slightly wide foot then it should fit in your normal size, however for those of us used to regular fit shoes then a half size smaller should do the trick as the shoe does not taper as much as 450 last.

Hopefully the above will help you work out the best size for you in what are Barkers more popular last shapes but as always if you are unsure or the last you are wanting is not listed then please drop us a line, our many qualified and experienced advisors (AKA Stephen and David) are at hand for your every need.
All there is left to say is… happy shopping and enjoy your new shoes.
---
If you enjoyed this article - please share with your friends...