---
Loake Litchfield goes Skiing with Pediwear.
11th February 2011

A shiny pair of brand new Loake Litchfields made a very welcome Christmas gift...
A shiny pair of brand new Loake Litchfields made a very welcome Christmas gift at our house. With the icy weather in the UK, they seemed like the perfect choice for smart winter work wear with practicality packaged in. The infamous Dainite studded soles should ensure grip on those treacherous icy paths.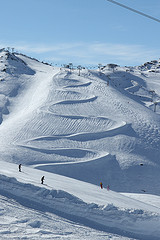 Whilst the Litchfields proved very comfortable, and made one look very stylish, since Christmas the weather has been somewhat milder in the UK, so there has not been opportunity to really test those Dainite soles.
While considering what footwear to pack for a week skiing in the French Alps the Loake Litchfields were an appealing prospect. Skiers often resort to wearing perfectly practical but not particularly stylish walking boots while walking round the ski resorts. As avoiding slipping on ice is preferable, practically wins out over style. However, equipped with a pair of Loake Litchfields, the best of both worlds is readily available.
The wonderful brogue boots were worn on the flight and most of the rest of the time while not skiing. The Dainite soles were fully tested on the ice and snow. Not only did they keep feet warm and dry, but the soles worked a treat on the ice and there was no slipping or falling. That is, there was no slipping or falling until the skis went on, but that is another story.
If you are going skiing this year, and would like to be seen apres ski in something other than your walking boots/trainers/wellies then we can wholly recommend the Loake Litchfield.
---
If you enjoyed this article - please share with your friends...