---
New Additions to the Pediwear Sowerby Selection
22nd December 2015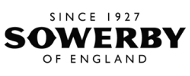 Sowerby, continuing to build on their passion and commitment to being the best in field, have recently introduced higher quality components and leathers to their entire range.
Consideration has been given to extra comfort along with the addition of full leather socks, full leather lining and gel to the heel areas for extra padding.
Pediwear is excited to be able to offer two new styles to its Sowerby selection of boots for 2015 onwards.
W N Sowerby Stable Boot "Winchombe"
The Winchcombe is a new stable boot manufactured in high quality country calf grain leather. With its brogue stitched uppers and Sowerby stitch welted Commando "Itside" soles, the Winchcombe is the perfect hardwearing boot for this season!
W N Sowerby Dealer Boot "Camden"
The Camden dealer boot is available with full brogue styling in a beautiful oxblood leather for a more vintage look. Again this boot features Sowerby stitch to its leather soles creating a good sturdy boot. Unlike the other leather soled Sowerby styles, the Camden does not feature the Blakey quarter steel tip - to enable the boot to be worn on more formal occasions.
We're sure you will find the Sowerby boots the perfect accompaniment to the English lifestyle…and weather!
---
If you enjoyed this article - please share with your friends...