---
Our Loake MTOs
10th December 2015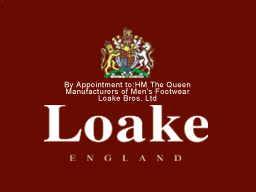 We're honoured to present our very own Loake Made To Order (MTO) styles.
Crafted at the Loake factory in Northamptonshire with every bit as much care and attention-to-detail as Loake's own styles, these MTO lines are a source of pride to both Loake and Pediwear.
Firstly, we have the Aldwych Dainite: this MTO style combines the simple but elegant lines of the Aldwych with a super-sturdy Dainite rubber sole for excellent grip and durability.
Next we have the Strand Dainite: the genteel and vey civilized Strand is already a popular style and we believe the Dainite sole nicely complements its excellent detailing.
And finally, there's the Buckingham Dainite: an elegant Full English Brogue with Oxford facings, again on that sturdy British rubber sole.
We're excited about these MTO styles and hope you are too.
Have an idea for an MTO style? A variation on an existing style, such as the Dainite versions above? Or maybe something different? Get in touch with us and we'll discuss your ideas.
---
If you enjoyed this article - please share with your friends...