---
The Difference between Oxfords and Derbys?
29th September 2018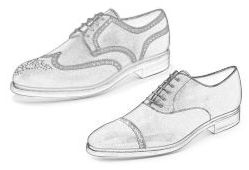 Alex explains the history of the two iconic styles and describes their differences.
The battle between these styles began in the 19th century where they both claim origin. The Oxford is the more senior of the two styles as it began to be popularised in 1800 in its namesake county, Oxford, whereas the Derby did not become well-known until the 1850s where it was popularised by British gentleman as a typical country shoe.
Initially, the Oxford was a city-working man's shoe, as opposed to the Derby style that had been a more relaxed country shoe or boot worn for sports and hunting. This difference in purpose faded in the 1900s as the Derby shoe was worn more often in urban environments.
A Selection of Oxford Styles
The Oxford style is typically characterised by its closed lacing, making a "V" shape, which allows for a snug, but comfortable fitting.
A Selection of Derby Styles
The Derby shoe on the other side has open lacing and is therefore seen as the slightly less formal of the two. However, regardless of the level of formality, both offer consumers quality products and fine finishings and features, like brogues, or top caps.
The Oxford is still considered to be the more formal of the two - and the less detail it exhibits, the more formal it becomes.
---
If you enjoyed this article - please share with your friends...