---
William Green's By Grenson Review.
3rd July 2017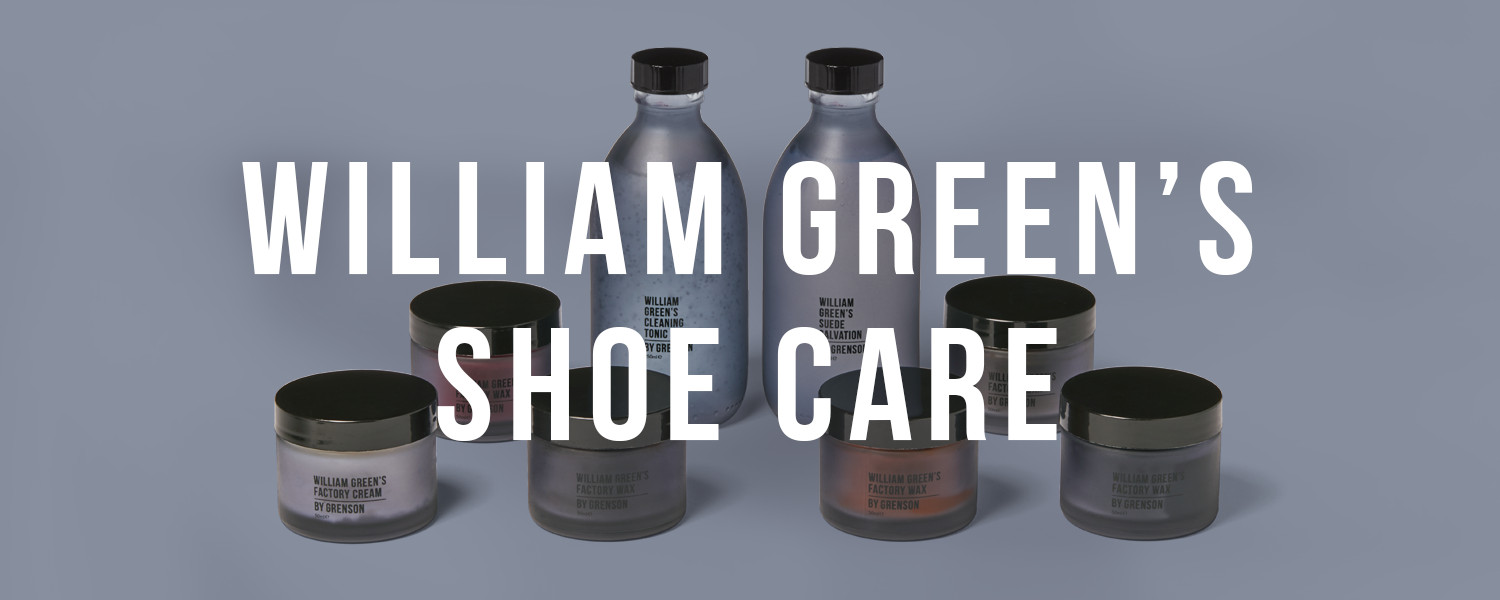 Grenson's new line of shoe care products hit the shelves.
What's that I hear you all cry? Not more shoe cleaning products!?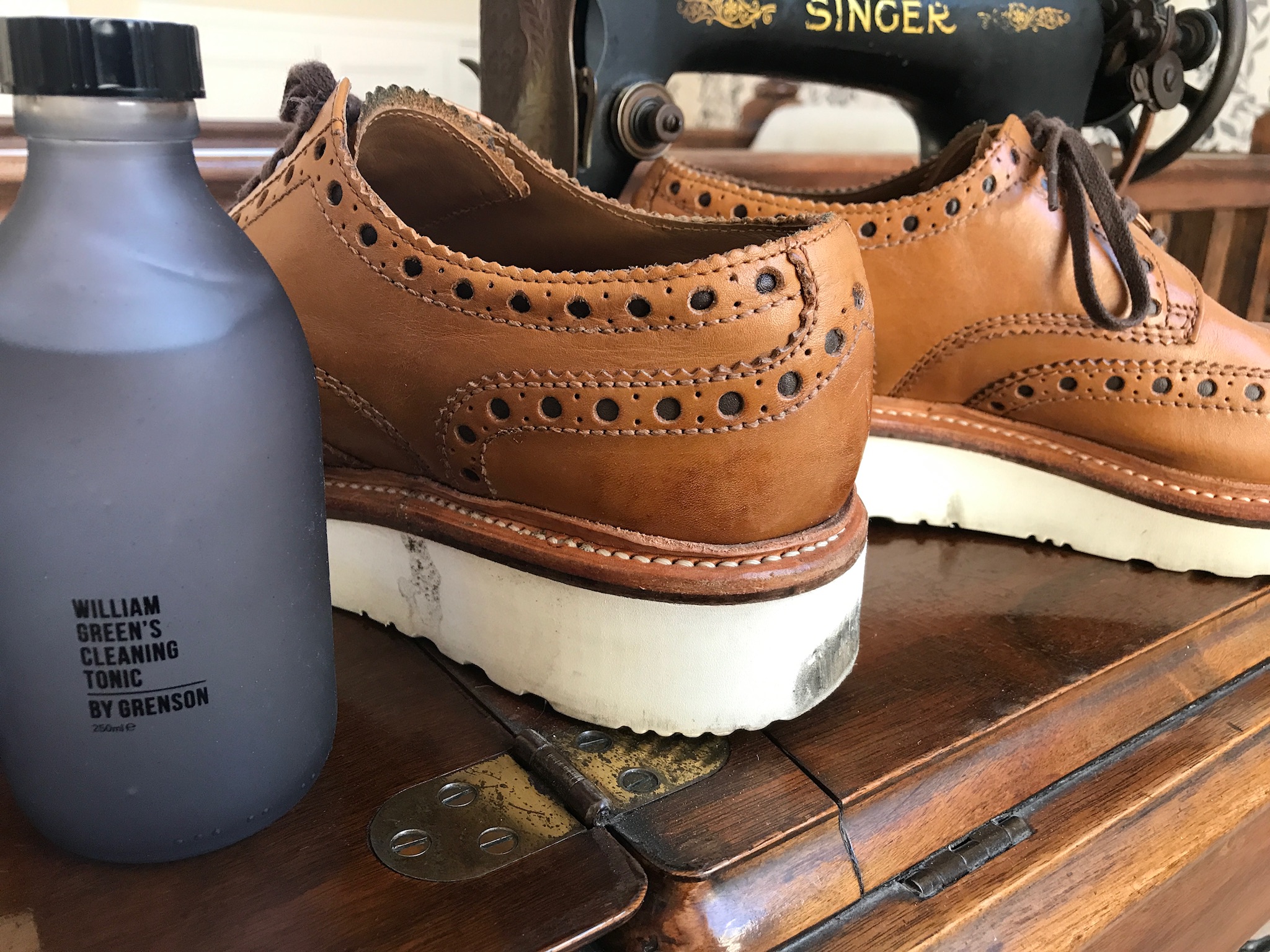 Well, I do agree to some extent, the market does seem to be saturated with this wax, that cream and Mr Fantastic's miracle balsam, cleans your shoes, cooks your dinner and turns your water to wine. So what could William Green's (by Grenson) shoe care range offer that isn't already out there?
Well…
For a start they look pretty swanky, now I know that in itself is not a reason to buy a cleaning product, it's what is inside that matters but… when you have something as pretty as this you can't help but be immediately impressed. The stylish frosted glass jars and bottles finished in black text will have you sitting them in full view rather than hidden away at the back of a cupboard wrapped in a 5p supermarket bag.
On the downside they are glass, as such, they're heavy and won't travel as well as a metal tin but being of the mind-set that I clean my shoes before taking them anywhere it's only a trifling issue.
Is this style over substance though? Let's see…
The main selling point is that these are the exact same products that are used in the factory, that's right, the guys and gals responsible for making the shoes look so good when you opened the box used these very items to make them look that way. That, my friends, speaks for itself.
But as with any good review, the proof is in the proverbial pudding so after a few days testing here's what I found.
Cleaning tonic – A delicate cleaning product which has an almost gel-like consistency and a pleasant aroma, designed to be used on both leather and rubber which is a godsend for those of us with the Archie V. The white soles get very dirty and I'm sure I'm not alone in thinking they're a real pain to clean. The tonic however performed better than imagined and was much easier than what I had been using i.e. kitchen cleaner and far too much elbow grease. It really brought them back to life (see above and below). The tonic also nicely cleaned the leather but this is a delicate formula so don't expect miracles, it won't tackle bad ingrained stains.
Factory cream – Made from a natural blend of Carnauba wax and beeswax I found the cream to be more set (thicker) than most other creams I have used which seem to give a more intense nourishment of the leather. A little went a long way and gave the shoes a really nice lustre afterwards. It has really revived my Archie's which always seem to be a bit dry looking even after other branded creams have been used.
Factory wax – This appears to be a little softer than what I'm familiar with, heading towards more of a cream than a hard wax and is made from a variety of different waxes and oils including Beeswax, Carnauba and Turpentine oil. It goes on quite well and looks to possess more colour pigmentation than tinned wax which is helpful for minor scuffs. It buffs to a good shine, better than a cream IMO but due to its consistency, I found it a little trickier to create a mirror shine, needing more time to dry.
Suede salvation – Very aptly named, the suede salvation uses a pump action spray to distribute the magical elixir contained within. Once applied to your suede shoes/trainers it should create an effective barrier against liquid and some residual dirt.
Having used this on my suede shoes and then giving them the tap test (putting the suede under running water) I was impressed to see the water simply bead off without penetrating the leather. As with most suede protectors, you will need to top up the protection with every use.
Whilst effective against water I have to say I'm not brave enough to be intentionally spilling more nefarious liquids on my shoes but I'm of the opinion that it should work well enough to defend against moderate spillages but I wouldn't go spilling red wine on them just yet!
If I was to try and pick fault here then it would be the confusion of having the pump mechanism separate to the bottle, which seems a little pointless. Take off the cap and screw on the pump however and you're set to go. Job done.
In conclusion, I have to give this cleaning range a hearty thumbs up, the stylish packaging is a punctuation mark to the quality of the product rather than any kind of deflecting pomp and circumstance. In my opinion, it certainly rivals the more established care brands out there, covers the essentials of shoe care and would be a welcome addition or replacement to many a cleaning regime.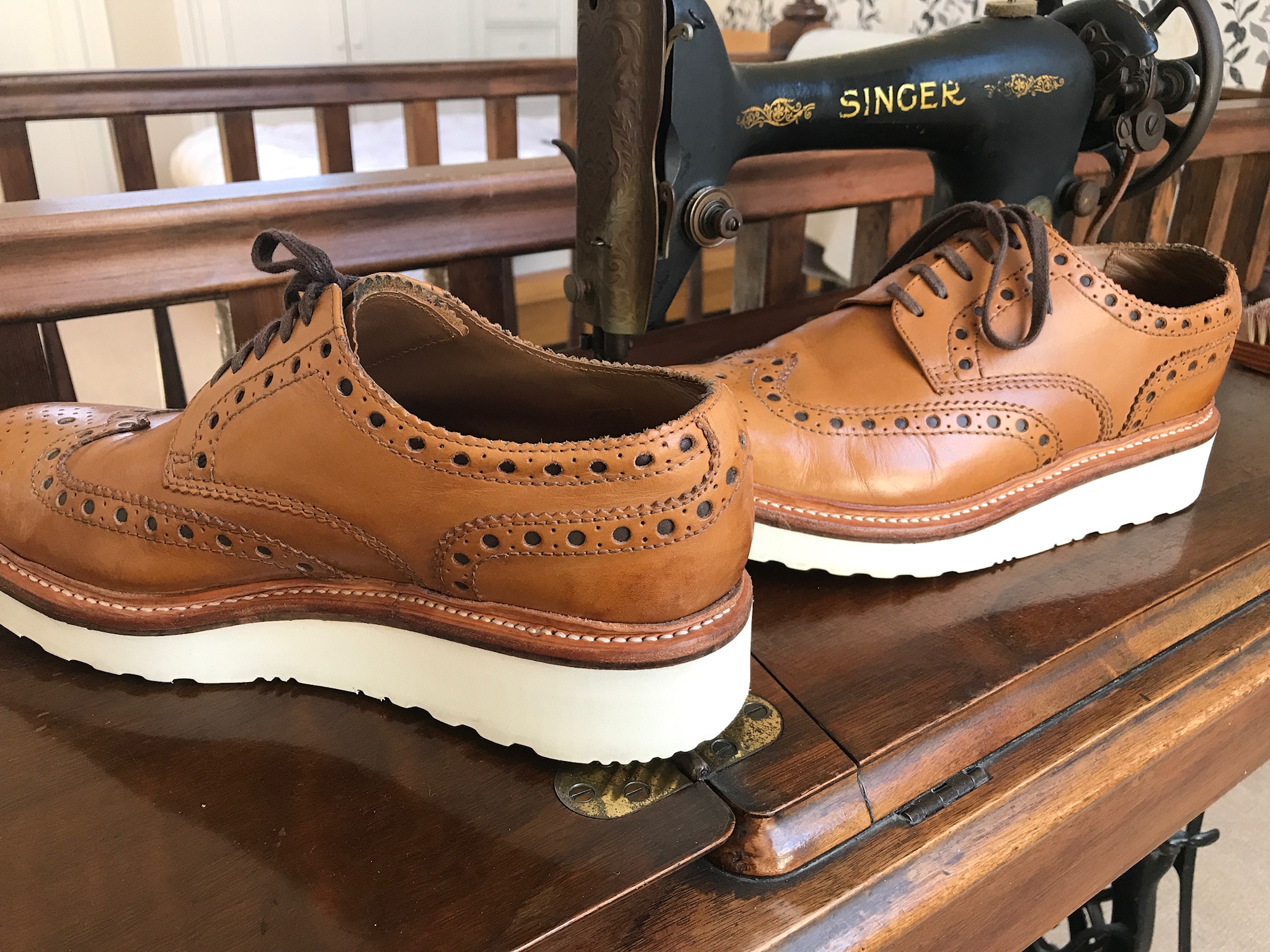 ---
If you enjoyed this article - please share with your friends...